Today's post is a video : ) In it, I will discuss various approaches to snap through problems with nonlinear FEA analysis. Understanding this was a stepping stone in my career. I really hope it will be just as useful for you!
Takeaway:
Let's sum up what I talked about:
What is steering? When you load your model with an active force, the solver will increment this force in nonlinear analysis. This would be the "force steering" – the force is being incremented. If you load the same model with displacement then the solver will increment that displacement. That would be "displacement steering". You can also use an "arc". This is neither force nor displacement steering, it's more like "both at the same time" approach. A really useful thing in snap-through problems : )
Steering with force in buckling problems isn't the best idea. There will always be a local maximum where the model capacity is reached. It is very probable that you will get a non-convergence message in that place. Sure, if it happens much after the load you need to apply to your model, that this is a good indicator of capacity… But do you really want to use solver error messages as guides in your design? I know I did for some time, but it's not the most pleasant way of doing engineering. Especially since you are losing some useful data (like where the model failed and how the failure looks like).
Steering with displacement can help. It won't always help, but often it will. It only depends on the post-critical behavior of your model. If the stability path goes smoothly forward after failure – you are good to go. However, in some problems (like shell buckling) stability path may want to decrease both load and displacement at the same time. In those cases, arc length methods are your only option.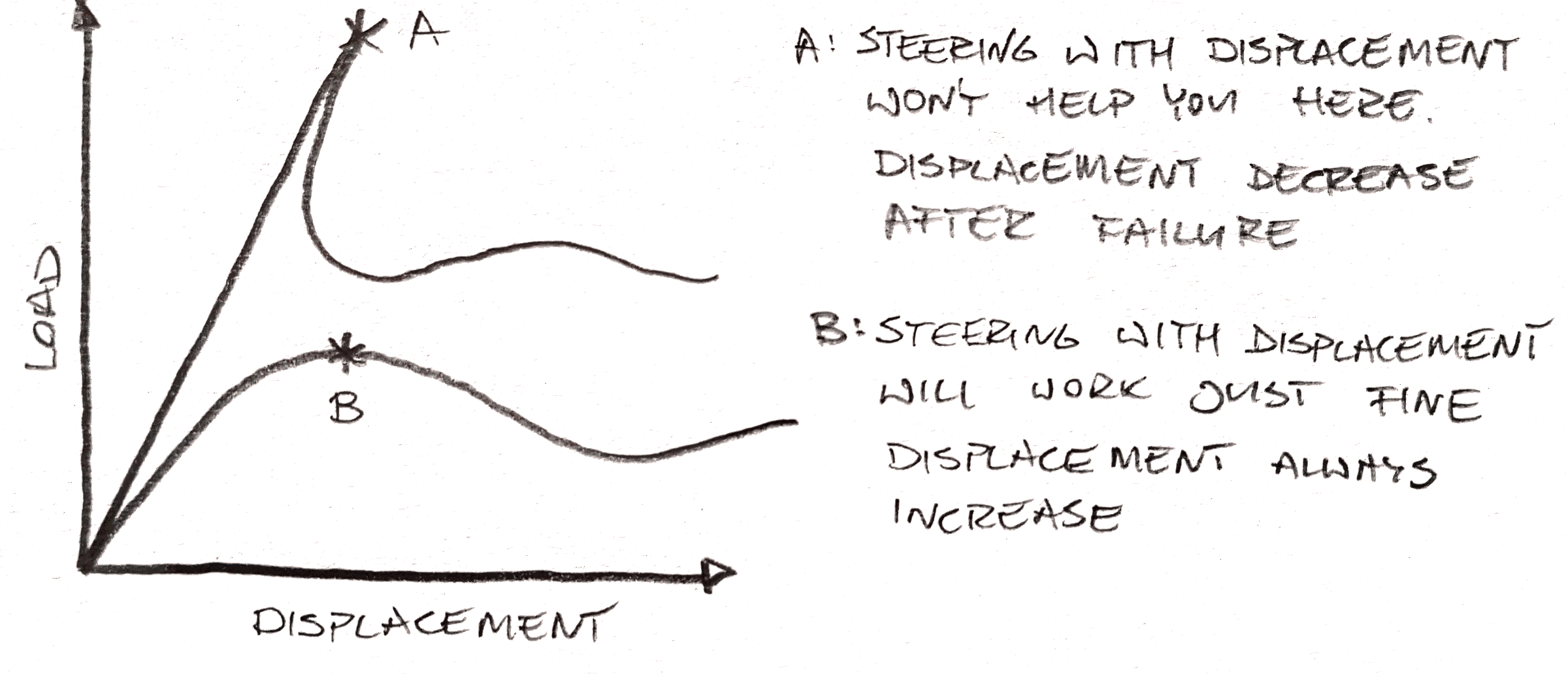 Switching between force and displacement steering. Sadly, this is not as simple as it sounds. I mean, all you need to do is to implement load as an enforced deformation or as an active load. This alone makes it. But how to switch from one to another? For a single concentrated force this is easy… for anything else: read this post about it : )
Arc length methods. When you deal with complex buckling problems those will come in handy! There are many algorithms you can use. The most popular one would be Riks (or modified Riks). In Femap, I also have Crisfield algorithm implemented. In all honesty, they produce very similar results. To the point where is some software, it is simply called "arc length" without even showing which algorithm will be used 🙂
Kids, try this at home!
As I mentioned in the video, by all means, try to do this in your favorite FEA soft. If you manage to complete that, please let me know (and send me a gif with the failure mode!). This would be great.
On another hand, if you get stuck at something, you can always ask for help here: enterfea@enterfea.com!
Just so it's more convenient – Model data:
Hall of fame!
I must admit that I haven't expected that! Big shout out to Boris Jakimov, who sent me his model in hours after I posted the challenge!
Awesome job man!
The model Boris made:
Want to learn more about nonlinear FEA?
Great! I have a free nonlinear FEA course for you! Get it by subscribing to my blog below: